This month DATOS has provided multiple courses on laboratory
strengthening in various countries.
Training at the WHO
Regional Office for Europe
In Copenhagen, Denmark, at the WHO Regional Office for
Europe, DATOS provided training in laboratory quality management and laboratory
management and leadership to officials of National Laboratory Working Groups of
Tajikistan, Uzbekistan, Moldova and Kyrgyzstan. The NLWGs of these countries
have developed national laboratory policies and strategic plans for their
countries under guidance of the experts of DATOS over the past two years.
Revitalization of the
national laboratory systems in Central Asia and Eastern Europe
The National Laboratory Policies and strategic plans
developed by the NLWGs are in various stages of endorsement by the respective
governments. The policies will revitalize the national laboratory systems with
strategically focused improvement activities, such as revision of the
laboratory education programs, procurement and supply chains, information
management systems and quality management system implementation.
What's next?
During the training DATOS facilitated brainstorming sessions
to help NLWG officials determine the way forward. This led to clear strategic
plans to further strengthen the role of the NLWGs and make positive changes
with regard to laboratory capacity in the Central Asian and Eastern European
countries.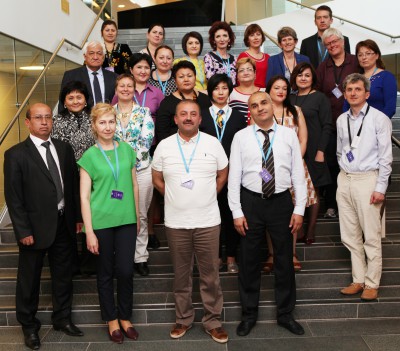 Training of Trainers in the Russian Federation
Many times DATOS experts have provided the Introduction to
Laboratory Quality Management and the WHO LQSI Tool training for the World
Health Organization. To increase the impact of this highly successful course,
DATOS has transformed this course into a training of trainers program.
From 22 to 27 May DATOS provided the Training of Trainers
course to Laboratory Directors of the Russian Federal Service for Surveillance
on Consumer Rights Protection and Human Wellbeing, Rospotrebnadzor. And the
result was perfect! The 25 participants were highly satisfied with the course.
They were introduced to modern adult learning principles and were confronted
with highly interactive teaching methods.
One big success – overall scores: 9.4 out of 10!

Both courses received high ratings from the participants: the workshop in Denmark received an average rating of 9.3 out of 10 (best), the training in the Russian Federation received a 9.4 out of 10!
Not bad for two new courses!