Follow up on National Laboratory Policy Development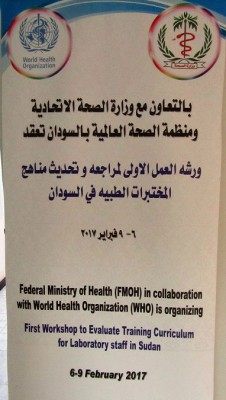 In 2014/2015 DATOS and KIT staff facilitated the development of the National Laboratory Policy of Sudan. The Sudanese government and the National Laboratory Working Group remained very dedicated and moved the policy forward. In 2016 the policy and strategic plan were endorsed and now it is time for the implementation.
The government identified three focus areas: human resources, biorisk management and total quality management. These come together when training laboratory staff to a level that suits the laboratories. The Federal Ministry of Health and the World Health Organization together organize two workshops to evaluate and improve the current training curricula of all levels of laboratory workers and DATOS was asked to facilitate this process.
During the first workshop Linda Oskam (laboratory expert of DATOS) and Prisca Zwanikken (health education expert of KIT) facilitated the evaluation of the current curriculum by the Task Force Curriculum Revision. Action points were identified that will be followed up by the Task Force before the next workshop in April.